Three awards given to CMS by TOYOTA!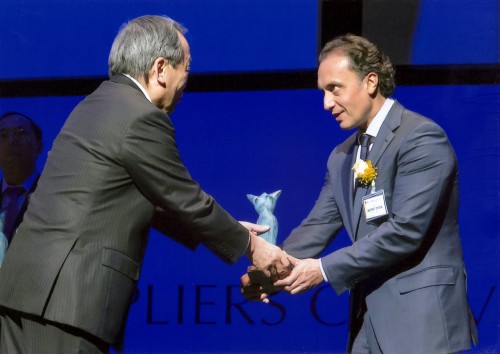 CMS has been granted for three awards in technology, cost and quality standards by Toyota, who got approximately a million of aluminium alloy wheel supply from CMS last year.

CMS added a new one to the collection of successes. The Regional Contribution Awards, given by Toyota annually to only 12 suppliers out of thousands supplier companies all around the world has been achieved by CMS this year. CMS has been granted for this award thanks to the positive cooperation with Toyota and the sustainable development. CMS has been the only Turkish Company granted for this award.

CMS Chairman of the Executive Board Berat Osen said that it was very unique feeling to get this very award in front of many successful companies in the world while he was taking the award from Toyota Engine Company Member of Board, Takeshi Uchiyama on the ceremony held in Nagoya, Japan.

The other 2 award was from Toyota Engine Europe. CMS was granted for awards on Supply and Cost Categories on the Supplier Summit held in Brussels, the capital of Belgium. Toyota was given these awards as the company could achieve to respond to ups and downs during the year and remain competitive and because of the high Kaizen quality standards.
All News