Excellence Award to CMS from Honda Europe!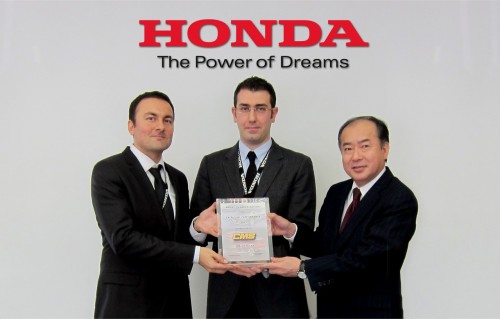 Turkey's leading, Europe's prominent aluminum alloy wheel producer CMS Jant ve Makina Sanayi A.Ş was deemed worthy of Excellent Performance Award by Honda Access Europe. Honda Europe stated that CMS was deemed worthy of this award due to its operations in the fields of "quality, cost, logistics, project development and respect to environment".
CMS unlocked another achievement related with its superior success in the quality. CMS was awarded with the "Award in Appreciation of Excellent Performance" which is given only to 5 suppliers among 110 supplier companies by Honda Access Europe. In order to have this prestigious award of Honda, the suppliers should succeed in each of many categories such as quality, cost, logistics, project development and respect to environment, and their average score should be at least 80 out of 100 points.
This was the third award given by Honda
Kenzo Yoshino, the Chairman of the Honda Access Europe's Administrative Board, who addressed a speech in the ceremony held in Aalst province of Belgium which is the center of Honda Access Europe has told that the cooperation between Honda and CMS dated back 14 years ago and that they wanted to maintain this cooperation in the future as well. Yoshino stated that they have absolute confidence in CMS. Burak Öğütlü who is the Project leader and Can Özuysal who is the sales representative have received the award in the name of CMS. The importance of this award is that this is the third award won by Turkish Wheel giant following those given by Honda England and Honda Turkey this year.
CMS produces wheels for 14 brands
CMS which is one of the first 10 biggest producers of Turkish automotive supply industry exports to the countries such as Germany, France and Italy especially where the heart of automotive sector beats. CMS is carrying out a production that is focused on export for brands such as AMG (Mercedes), Mini (BMW Group), VW AG (Audi, Bentley, SEAT and Volkswagen), Toyota, Fiat Group (Alfa Romeo, Fiat and Lancia) and Renault, while it is producing wheels for Toyota, Renault, Fiat and Honda which are producer companies in Turkey.
All News